Overview
International meetings on Fisheries Acoustics in Asian countries were held two times over the last decade. The first meeting was held in Pusan, Korea in 1997, entitled "International Workshop on Acoustic Surveys of North Pacific Fisheries Resources", and the second meeting was held in Hakodate, Japan in 2000, entitled "International Symposium on Advanced Techniques of Sampling Gear and Acoustical Surveys for Estimation of Fish Abundance and Behavior", both in conjunction with the PICES (The North Pacific Marine Science Organization) annual meetings.
The coming third meeting is held in Dalian, China. In this meeting, we independently establish the Asian Fisheries Acoustics Society (AFAS) based on past activities in order to promote further progress of science and technologies on Fisheries Acoustics in Asian countries.
Since there are many particular problems in Asian fisheries such like small quantities with numerous species, benthic animals, freshwater fish, and aquaculture, the AFAS aims to apply the acoustical technologies for those problems. Subsequently, the AFAS meeting will be held every year in somewhere in Asia.
Date and Venue
The meeting will be held November 6-8, 2007 in Dalian Fisheries University, Dalian, China
Organizing Committee
Dr. Yong Tang(Chairperson), Dalian Fisheries University, China
Dr. Guosheng Zhang, Dalian Fisheries University, China
Dr. Xianyong Zhao, Yellow Sea Fisheries Research Institute, China
Dr. Masahiko Furusawa, Tokyo University of Marine Science and Technology, Japan
Dr. Kohji Iida, Hokkaido University, Japan
Dr. Doojin Hwang, Chong-Nam University, Korea
Issues of discussions
The first meeting of Asian Fisheries Acoustics Society discusses the following issues.
1. The establishment of Asian Fisheries Acoustics Society.
2. Present states and problems in the research on fisheries acoustics in Asian countries.
3. Recommendation of the research topics required in Asian fisheries acoustics.
The keywords
The keywords of this meeting are follows.
Pelagic fish, Demersal fish, Freshwater fish, Benthic animals, Seaweeds, Aquaculture, Resource assessment, Fish behavior, Behavior control.
Call for Papers
Contributed papers are welcome on all relevant topics in sampling gears and acoustical techniques for stock assessment or ecological research. Contributed papers will be selected for oral or poster presentations. The language of the symposium is English. The session includes invited lectures, oral presentations, and poster presentations. The time allotted for oral presentations including discussion is 20 minutes. The maximum size for poster presentations is 120×90 cm.

Registration
All interested persons are free to attend the symposium. Participants should send the REPLY FORM on the back of this sheet to the symposium secretariat by Fax or E-mail by September 30, 2007.
REPLY FORM
Please make one registration per one person.
(a) Full name (first, middle and last: last name in capital letter);
(d) Postal (mailing) address;
(b) Name of the organization that you belong to;
(c) Your Post, and Position or Title;
(e) E-mail address;
(f) Telephone number including country code;
(g) FAX number including country code;
(h) If you want to reserve a room at hotel by the symposium secretariat; (for details, refer to 'ACCOMMODATIONS' Section);
Registration fees
Only on-site (walk-in) registration fee: RMB 800; JP¥ 13000; US$ 110
Accommodation
Reservation hotel by the symposium secretariat:
XinBanDao Hotel (Three Stars)
It relatively close to the University (4 minutes by taxi depending on the traffic and it will cost about RMB 8 for one way)
For other accommodation, please make reservations by yourself.
Abstract Submission
Abstracts should be submitted to the secretariat by E-mail with Fax (or Ordinary mail). The deadline for receipt of abstract is September 30, 2007.
Abstract Format
Size: One page of A4 size paper.
Margin: Top 30 mm, bottom / left / right 25 mm.
Font: Times New Roman.
Title: 13 point font size, bold and align center.
Author(s), Affiliation(s), and Address(es): 9 point, align center.
Text: 11 point, single space and fully justified.
Keywords: 11 point in one line volume at maximum.
About Dalian
 It is a city full of charms and well-known as "Home of Track and Field" and "City of Fashion". This charming city with its blue sea, clear sky, delicious seafood, green grass and kind people is sure to provide you with a good travel experience. Visiting scenic spots, places of historic interests and wonders will keep you busy during the day. At night, soaking yourself in the beautiful night scenery, strolling along seaside, with wind gently sweeping your face, tasting various delicious seafood you can feel the pleasure of life.
Dalian, facing the sea on three sides, is a flourishing coastal and beautiful port city with convenient land, water and air transport. The port of Dalian is the major one for China's northeast province. Thriving financial, trading, shipbuilding, chemical and garment industries have been developed since it was founded 100 years ago.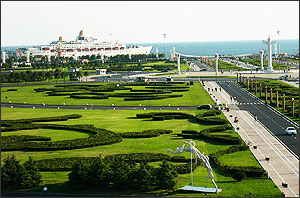 More Information
Request for additional information and registration for our mailing list should be directed to the symposium secretariat:
c/o Prof. Yong Tang
Dalian Fisheries University, Dalian, China
52 Heishijiao-jie Shahekou Dalian China
Tel:86-411-8476-3561, Fax:86-411-8476-2706
E-mail:afas@dlfu.edu.cn
sonarway@hotmail.com